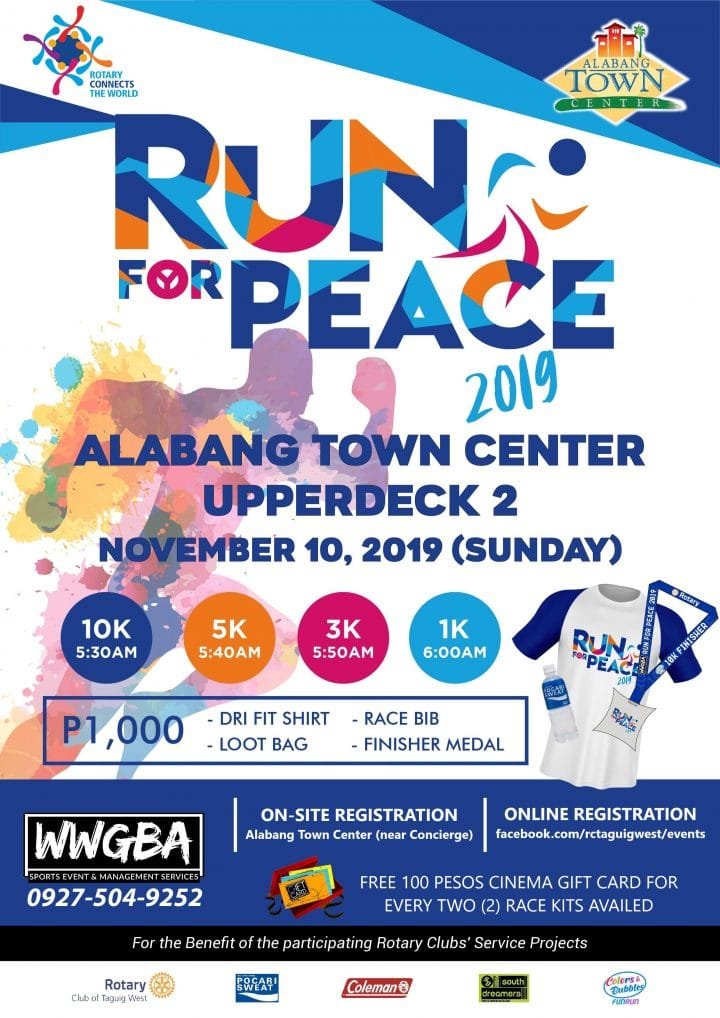 "In a culture of peace, we become more tolerant of each other, more understanding towards each other, more understanding towards one another, and wherein respect, love, fairness, and good faith are the norm and not the exception." – Rotary International District 3830 Governor Ador Tolentino
The project is in partnership with Alabang Town Center and WWGBA. There will be project and product sponsors that will be invited as well. The choice of the theme is intentionally aligned to the colors of Rotary International's "Connect The World," and the district's thrust on PEACE. The objective of the project is to promote Rotary, raise funds for the RC Taguig West projects such as Legal Mission, Aklat Para Sa Lahat, A Board for Every Classroom, Scholarship Program, and Bag of Hope, and offer a fund-raising opportunity for the clubs of the district. The running distances are 1K, 3K, 5K, and 10K. Each race kit is sold at 1,000 pesos.
Run for Peace 2019

Date:
November 10, 2019
Organized By:
WWGBA
Categories:
1K | 3K | 5K | 10K
Run for Peace 2019 Registration Details

Venue:
Alabang Town Center
2248 Zapote Road, Alabang, Muntinlupa, 1770
Register at Run for Peace 2019 Now

or thru the following

Registration Venues:
Alabang Town Center (near Concierge)
For more information about Run for Peace 2019

Mobile:
(0927)504-9252
Email:
[email protected]
DISCLAIMER: Schedule and all information about Run for Peace 2019 are provided either from initial research, or by the race organizers. Pinoy Fit Buddy does not guarantee the accurate listing of these events. Please contact the race organizers for race updates and possible changes.