I'm already in my mid-30s and at this age in particular, a lot of people would resort to taking a lot of health supplements just to find the best combo that will keep us healthy, and for some… some benefits for the skin too. I did some glutathione supplementation for lightening and detoxification purposes; a combination of vitamins and random health products from online stores. This is naturally a struggle especially for the ones who take a lot of workout supplements because I'm more prone to pimples, and bacne too!
And while I'm doing some product explorations from brand to brand, I think that perfect match for is honestly, still beyond reach. So when I heard that one of them truly is a collagen supplement, I had to reconsider. That's because I've taken a bunch of different brands already and I felt like it worked very minimally, or almost none at all.
Moreso, thanks to the COVID-related health and wellness boom, we realize that collagen isn't just for the skin, but mainly for sports nutrition as well! That makes this 'rising star' of nutrition not just a trend-worthy supplement to take, but a sustainable one too. With the said global pandemic leading consumers to discover home-friendly workouts such as High-Intensity Interval Training (HIIT), this has definitely opened an opportunity for this supplement, which is said to be ideal for mitigating the effects of high intensity exercise.
So really, what does a Collagen supplement do to our body?
As you may have read on a lot of products being sold online, here goes the basic definition: Collagen is the building blocks of the connective tissue and tendons within the body, this makes collagen a unique protein for supporting mobile joints, hair, skin, nails and cartilage.
While beneficial for athletes and gym goers of any age, Hydrolysed Collagen supplements are particularly useful for anyone in their 30s, 40s and 50s+ looking to protect their body as they age. However, HCP can be used by all age groups to strengthen and support the musculoskeletal system, especially those participating in sports or activities prone to injury.
Over the weekend, I was given a chance to try a new Collagen product, in powder form. I decided to go ahead and see what kind of results it would get me not mail for the skincare (as it would take long to see results for that part), but on my performance recovery during my intense home workout trainings. I went with Recogen and took it daily for two weeks.
What is Recogen?
Recogen® is a food and diet supplement that benefits both young and elderly suffering from joint pains. Now in a convenient sachet pack with added Calcium for both bones and joints health maintenance!
100% pure Bioactive Collagen Peptides – Each sachet contains 9,000mg of Bioactive Collagen Peptides with 1,000mg of calcium lactate
30 convenient sachets to allow you to take Recogen® anywhere with you
Suitable for bone and joint health
A collagen prepared by enzymatic hydrolysis of collagenous bovine materials (skin of healthy cattles)
Free from bovine spongiform encephalopathy (which causes Mad Cow Disease)
Has an extremely low molecular weight of 3000 Daltons
Supported by 30 years of proven clinical studies
No known side effects
Easily digested and readily absorbed
Dissolves easily, odourless & tasteless
Daily intake will aid in regeneration of cartilage and collagen-containing tissues
Recogen® is HALAL certified by MUIS Singapore.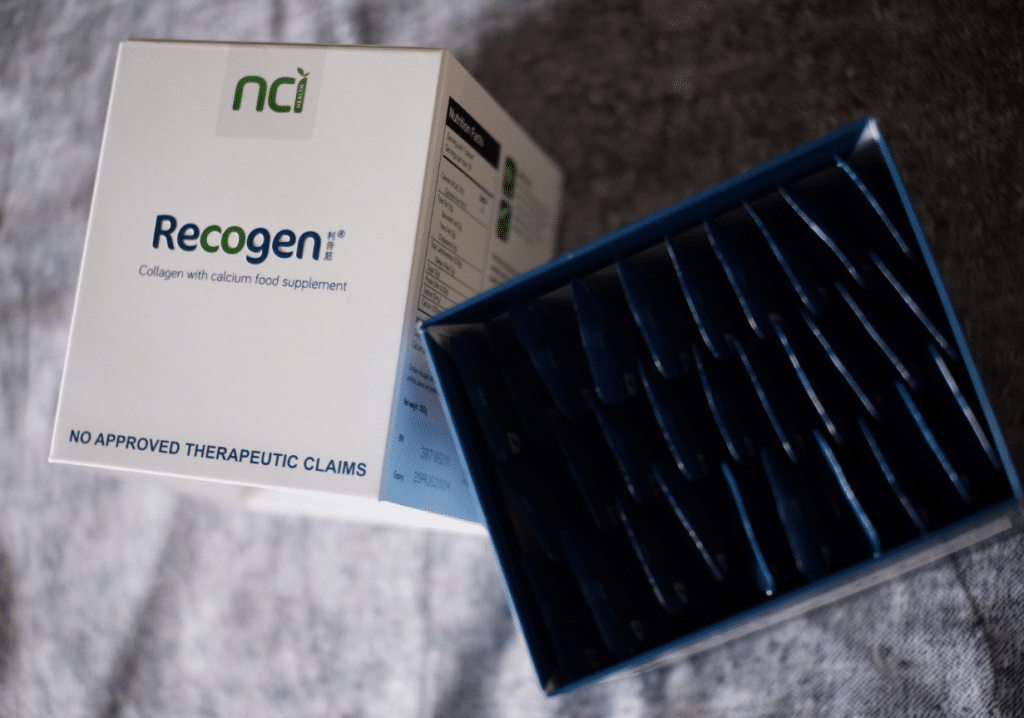 As for the collagen powder itself, I have tried many things for my skin from creams to foods to facial treatments and I think taking collagen powder everyday has been the most beneficial and sustainable. Though it may not come as something that's affordable for everyone, I think it would come as a very good investment. It's for your own body, anyway!
"Clinical studies have shown collagen supplementation can increase skin's hydration by up to 91 percent. Collagen benefits the skin by restoring skin's youthful appearance, improving skin tone and texture, plumping the skin and smoothing out fine lines and wrinkles."
Sounds, promising right? Now we head to my actual review of this product!
On Taking A Powder-Based Collagen
So, what was my experience?
Taking the supplement itself is an easy thing to do since they are in individually packed sachets. I would usually add it to my coffee or water however, I don't add it directly on cold ones because it kinda solidifies a little. But it should not come as a big deal.
There is no problem mixing with other beverages too because this is totally unflavoured, which won't give my other drinks a strange mix of taste. The serving suggestion was one packet a day, preferably before breakfast.
Nutrition Facts:
When I started taking this new collagen-calcium supplement, I was curious about how long it takes for collagen supplements to actually work. There definitely are a few significant changes I noticed by the end of two weeks, but I would still find it a little too short for supplements like this to work to their full potential.
After two weeks of use, I have definitely found this to be a good protein powder supplement with my whey (since I workout a lot) as it doesn't make me feel bulky and I think it's been helping in muscle recovery. But here's what's really noticeable for me after taking it for two straight weeks:
Feeling Full After Taking Recogen
Since I drank my peptides in the morning with my coffee, or casein whey supplementation (around 7:00AM PH Time), I found myself full until lunchtime. I tend to take a later lunch, around 2:30, so I typically have a snack sometime mid-morning to tide me over. However, I don't feel any urge to take my morning snack after I had collagen (even if I have to for my macros!). It also helped to pair my collagen coffee with breakfast or whey, especially if I ate something that wasn't super high in protein such as tasty bread and cheese. The protein from the collagen has somehow kept me satisfied until my next meal.
Nails Seemed A Little Stronger
After about a week of taking the collagen, what I really noticed for sure is that my nails were thicker and stronger and were growing faster! Usually, my nails break and tear off after they grow, but after drinking Recogen, they were growing nicely and faster than normal. How could I tell? I have my own personal schedule of cutting nails!
Lastly, I'm Recovering Faster, Ready For Tomorrow's Workout
I'm not sure if this was a placebo effect or not, but I felt like I'm recovering faster than I did before. FYI, I do progressive workouts every week (push day, pull day, combo day, HIIT day) and I would usually feel unrested after 3 days of consecutive heavy lifting that I would skip a day sometimes (recovery plays a big role in bodybuilding!). The supplement might have helped reduce the risk of injury and improve my athletic performance in a sports nutrition context as I feel refreshed the day after and ready for another workout session with less need to recover due to either muscle, or joint pain from the reps. The statement must be true with the new formulas of collagen supplements: lately, they are specifically being developed to provide consumers with multiple health benefits and functional properties to help support the regeneration of tissues within the body.
At this point, I am still gonna take it every morning with my tea or coffee and will continue doing so! I still have to give an in-depth review of this product after using it for a few months if I'm aiming for skin improvements. But so far I am truly satisfied with how it has helped me with my training!
Where To Buy Recogen
You can get this supplement directly through The Goodwill Market (https://goodwill.market/shop/products/recogen) , or via your favorite online shopping channels like Lazada or Shopee for an SRP of 2,900 PHP.