I have been very familiar with this product for around 2 years now because some friends have it, but I've never really had to opportunity to try it once. When I saw a friend using it before our trip to Boracay, I suddenly got reminded about it and finally found a way to get one (or two, for my partner too!). By the way this product has been existing in the market for so many years, so call me a laahhhwwsseer for this late late uber late review haha!
And so here I go.
What is Rohto Z! Eye Drops
Rohto Z! Eye Drops is a multi-purpose formulation in consideration of such causes of eye redness. Besides redness, it relieves eye inflammation and itching and bring cool and refreshing to your eyes. Use it for eyestrain, the eye disease prevention (after swimming, or when sweat or dust gets in your eye), ophthalmitis caused by ultraviolet rays or other rays, discomfort when wearing hard lens, conjunctiva hyperemia, itch of eyes, blepharitis (inflammation of eyelids), haze (time with much eye mucus) of eyes.
Rohto Z! Eye Drops not only relieve dryness, redness and irritation, but also contain signature ingredients that enhance the sensation of relief and give a "kick" to tired eyes.
Rohto Z! eye drops comes in a hip, slim, portable (travel-friendly) bottle that features a specially-designed nozzle that helps prevent contamination.
Active Ingredients: Tetrahydrozoline hydrochloride 0.05% Neosuchi gummy down methyl sulfate 0.003% Zinc sulfate hydrate 0.05% Chlorpheniramine maleate 0.03% Vitamin B6 0.1% Potassium L- aspartic acid 1%
How To Use Rohto Z! Eye Drops
Directions: Instill 2 to 3 drops at a time; 5 to 6 times daily.
Where To Buy
Got this at Shopee.ph. Find them and it's priced at around P250.00 – P350.00 depending on the seller. You may also get this at Lazada Philippines.
My Personal Review
It wasn't so hard for me to decide when it comes to getting an eyedrops as part of my personal care / vanity, simply because I work in front of a computer all the time. I have to mention that nowadays, you're 80% staring at and LED / LCD whether it be your phone, computer, laptop, or television.
I used to have two versions of Visine in my bag: the blue and green. First is for relieving itchy eyes, and the latter for cleaning purposes, or either way around. When I have finally discovered Rohto Z!, i've been wanting to try it out but to not avail, I can't get one because it's hard to look for it in the Philippines.
Not until online stores arrived.
So yeah, I was able to buy from Shopee and after 3 days, it arrived here at my office desk:
Because of the common review that says it's gonna feel like burning at first. Hell yeah let's do this… not. No acting chicken now you already bought it, Jeff.
And so it put a single drop on my GAAAAAAHHHDDD! my finger. Haha! Got you there.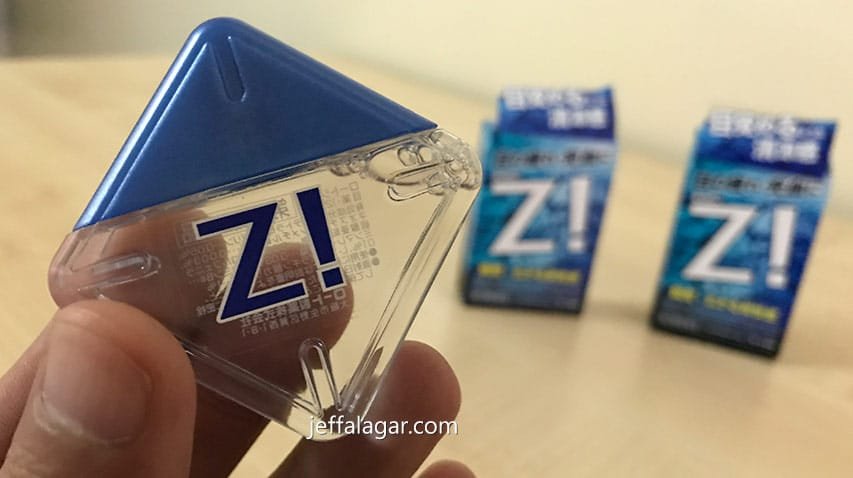 Okay let's get down to the real business: my eye's turn to take the road. I'm ready for all the stings, the burns, whatever you say. After the first drop… it felt super stingy!! Maybe because it's my first time to try it. But take note, my eyes are no virgin to these eye products (maybe except contacts, I'm still afraid to try one haha!), and this one got me tingling. Felt a whitening soap, or as simple as Safeguard soap bubble got in your eyes? Something similar, but milder.
Then I waited for around 10-15 seconds…
And HEAVENS! No, kidding. I'm just exaggerating. But it's actually a little close. Haha!
It's that minty feeling that gives you that overall eye refreshment! I noticed that a little redness on my right eye was gone (it will be noticeable because only my right eyes was red before I applied it and now they're looking both clear!) Whew.
Final Thoughts
I am close to rating this to perfect 5, but this blog is just new. And I don't have any benchmark to beat but my Visine drops. This so far beats the hell out of any existing eye drops in the local market that is being sold today. The "acid" feeling is close to a temporary setback, then it's just gonna bring you up… your vision quality I mean. Fatigue is relieved bigtime, and most important because it happens to me frequently: I am so into this product because it eliminates my need to scratch my eyes due to severe irritation from dust. So poof! You're a keeper Rohto Z! For now…
Any other eye drops up for the challenge? I dare you.
Jeff signing out for today. *opens an eye wide open and poof*