I am currently on my journey to restoring my color back when I was in high school. Haha! I was as white as my two sisters, and that BS C.A.T. during junior high took my color all the way down to ulikba levels: unevenly dark, burnt, spotted, dirty.
After starting to maintain my weight this year, I've decided to take the "whitening" road back again, and after a bunch of research, this one got me due to its rave reviews online. So let's get to it.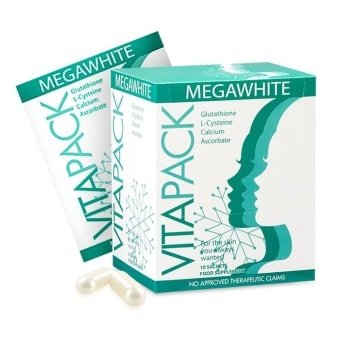 What is Vitapack Megawhite
Vitapack Megawhite is a whitening supplement that contains these three poweful ingredients that promises you on getting that radiant, fair, white skin:
Glutathione
Glutathione (250mg) is a powerful antoxidant used as an inhibitor of melanin. It is a proven safe effective whitening ingredient when taken on a regular basis.
L-cysteine
L-cysteine (50mg) is an amino acid which is a precursor of antioxidant glutathione. Having optimum levels of cysteine can stimulate the body to produce its own glutathione.
Calcium Ascorbate
Calcium ascorbate (100mg) is the "non-acidic and non-sodium" form of Vitamin C. It is also known to promote oral absorption of glutathione by the body without the side effects of regular Vitamin C.
How To Use Vitapack Megawhite
Directions: Take 1 to 2 capsules a day, preferably on an empty stomach, before breakfast and at bedtime. For maximum results, take one tablet every 6 hours (4 tables in one day)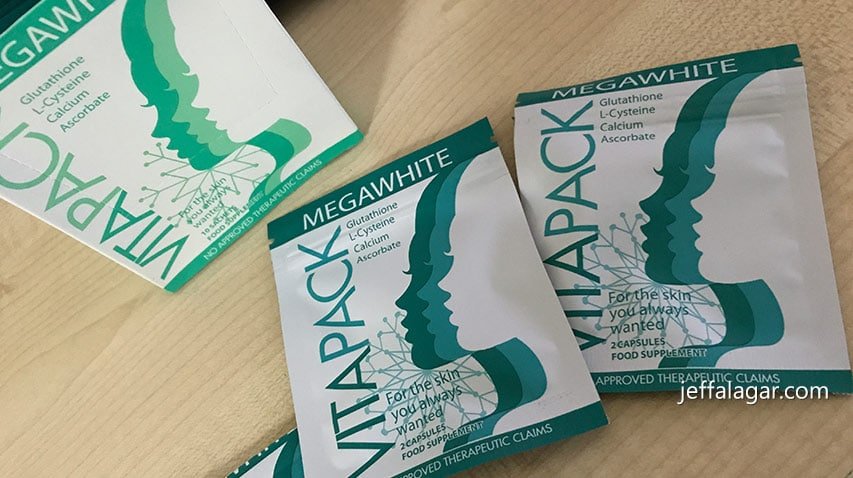 Price & Where To Buy
When I read the reviews, they said it was available at some Watson's branches, but here in BGC, I called all branches and they said it's either sold out or phased out. Tried several branches around Manila too but to no avail. I just ordered my 2 box pack at Lazada Philippines. You can check Vitapack Megawhite at Lazada here at P920.00/box.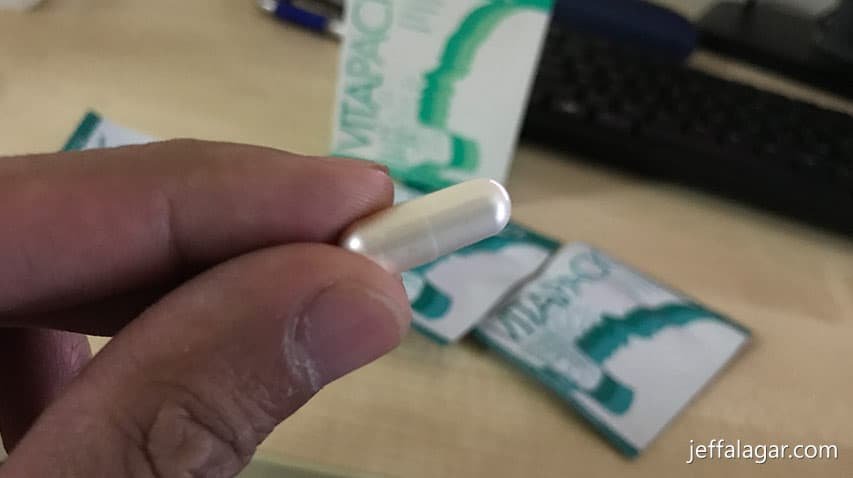 My Personal Review
Two boxes down, folks! That's 40 capsules taken within 20 days. Changes? I came from this year's Laboracay and one of the most important factor that a supplement could be working that I considered is my fast recovery from my sunburn and darkening due to outdoor summer activities.
IMO, Vitapack did its job quite well… quite. My partner noticed I was getting little in no time but of course there is no whitening beyond what I should expect… yet. The only turndown so far would be the price. P920/10 days on a regular supplementation. If you are going to take the make-me-white-fast road, that's P1,840 for a whooping 10 days (40 capsules, 4 per day, 1 every 6 hours), and a grizzly P5,540.00 per month! Yep, your cost of vanity. I still believe there are more products out there that won't cost that much to get that fair skin. It's almost the cost of a bi-weekly Glutathione IV Drip Home Service!
So I'm kind of torn because there are so many other options around that I'm willing to try out. Hence…
Final Rating: 2.8 / 5
This should come as no surprise. To tell you honestly, I was easily sold by the idea of trying this one out because there was way too much positive reviews around the internet claiming that it really works. But I'm cutting the positives down to 50% simply because their products, once delivered to you, comes with a promise THAT they will be giving "tokens" to users in exchange of 5-star ratings.
I'm really sorry, but I have to give this one a low score truly because there are a bunch of glutathione supplements in the market that are way cheaper than this (might consider reviewing Snow Caps), and I can't help but think that I'm also paying an addition for all those printed foil packs when all those tablets can be packaged in two-caps, four-caps, and bottle packs. I have four boxes with me and imagine throwing out 40 package foils that is truly unusable right after getting those 2 capsules inside it.
In terms of its effectivity, I still yet have to wait for a few more weeks and see if this one helped me out. Don't worry, it's really just my initial review score and just wait until my final judgment.
Ciao!
Disclaimer: Obiously, this is not a sponsored review. I have bought the product/s from my own. The views and statement above are my honest opinion and my personal experience using the product/services.