Taken some time off over lock-down? Understandable. But if you're feeling that need to go back to the gym as soon as possible, this workout will help get back into the swing of "gym things!"
Lately I am trying to engage myself back to getting a summer body (as early as now!) regardless of the uncertainty with the pandemic. So today I'm sharing with you this quick workout, doable for just around 15 minutes of your time. It's a good workout that will solve that intense soreness after taking some time off from working out at Gold's Gym, Anytime Fitness, Fitness First, or your nearest bakal gym. You'e had your share of binge eating just like I did over the past few weeks especially during ECQ. This workout will help your entire body to enhance that blood flow once again, and integrating some cardio as well so you can flush out those quaran-treats you've had!
Also Read: Gym Reopening on GCQ: What To Do
To do this, give yourself a maximum of 15-20 minutes in completing this routine for two times. Let's start!
1. Alternating Lateral Lunges 5 reps each side
Instructions: Your first challenge here is to stand up. Get up!
To start, put a slight bend in your knees and hips, with feet wide apart, and your chest up. Then while staying low, now step to your left and shift your weight in that direction.
Keep that chest and head high!
Now pause at the bottom, then push off the bent leg and return to the starting position. And then proceed straight into a lunge to your right.
2. Skip Rope for 30 seconds
Instructions: Pick up your rope as quickly as possible (no rest period) and start skipping!
Keep a sustainable pace in this one. Also, keep your elbows tucked in by your sides and try to rotate with your wrists, and not through your elbows.
Also a quick tip? Don't look down at your feet. And keep your head and eyes up. This will stop you from tripping on the rope, even if you're starting to feel tired during that last few seconds.
3. Plank Get-Ups 8 reps
Instructions: You should be feeling pump (and a little exhausted!) now, but it's actually a good thing! You're showing signs that you're purifying your soul out of all that pancit canton lol.
Now set yourself up in a plank position, with your feet and elbows on the floor. Also with your core tight and your back flat. Mind the form, and check that look at your phone camera or a mirror just to be sure.
Push up onto one hand, and then the other, into a high plank, with your arms straight and under your shoulders.
Reverse the move going back to the ground, and repeat for the remainder of reps.
Also Read: I'm Starting Over Again With Fitness
4. Repeat Skip Rope for 30 seconds
Instructions: One more time my friend! Just one more.
Your main objective at this very point is to finish through the entire set without stepping yourself on to the rope!
Practice your grip, and make sure it's more relaxed than the last time. Don't mind the remaining seconds and just focus on the form.
5. Elevated Push-Ups 20 reps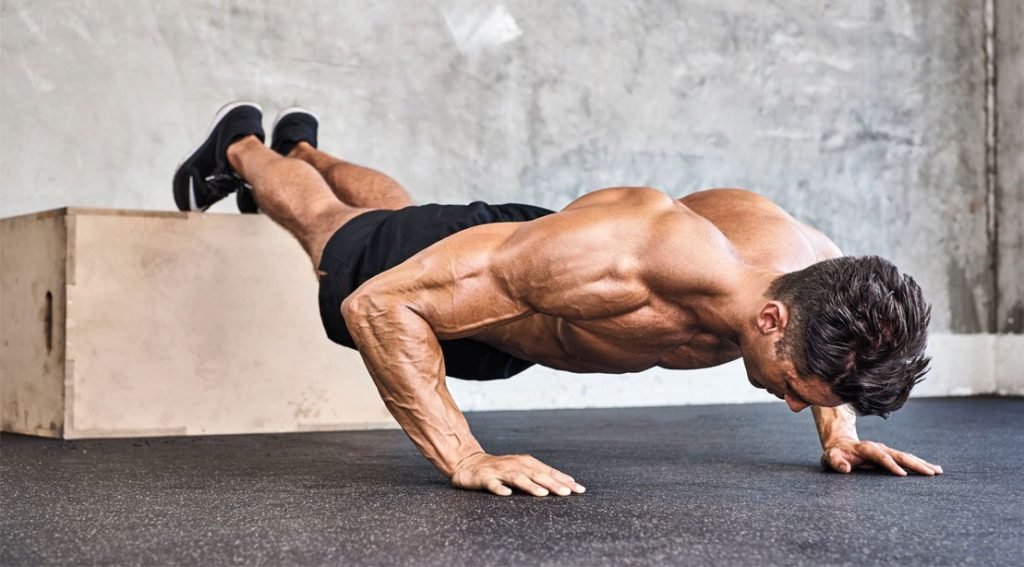 Instructions:
Select a raised surface and get into a press-up position, with your index fingers and thumbs forming a diamond.
Slowly lower yourself, pause at the bottom, then flex your chest to power back up.
And then you're done… not! Give yourself around a 30-seconds rest, drink a little bit of water if needed. Then restart the circuit from the top.
Done? Then you're pumped up and ready to go back to the gym! Hoping though that other than following safety precautions when going to the gym, let's pray that the numbers of infection go down really soon. Cheers and stay safe my friend!