High performance sportswear label Under Armour (UA) unveiled the brand's latest innovation in footwear cushioning technology called HOVR. The new HOVR delivers one of the most cutting edge running platform that combines comfort, underfoot cushioning, and energy return for runners.
GRAVITY HOLDS YOU DOWN, HOVR LIFTS YOU UP
UA HOVR is a cushioning platform, engineered to provide the ideal combination of cushioning and energy return. The UA HOVR midsole is made of a proprietary foam compound in partnership with leading innovators Dow Chemical, providing a supersoft durometer with incredible cushioning and shock absorption with every single foot strike.

UA HOVR is UA's third cushioning platform, evolved from Micro G and Charged Cushioning respectively. This new pinnacle cushioning system delivers on runners' needs to have a shoe that provides not only support – but also energy return and shock absorption.
Another key component of UA HOVR cushioning system is the 'Energy Web,' which is a mesh fabric that wraps the cushioning core, to deliver strong responsiveness and energy return. This ideal combination of advantages makes runners feel better and perform better with less fatigue. With UA HOVR, the shoe is absorbing some of the impact an athlete's body would normally feel, aiding in comfort and keeping legs fresh for the road ahead.
"The development of UA HOVR was inspired by the insight that every step a runner takes has the impact of 2-4x their body weight, holding them down. When designing UA HOVR, we set out to create the perfect combination of cushioning plus responsiveness and energy return – to essentially lift you up," said Dave Dombrow, Under Armour's Chief Design Officer. "The HOVR underfoot returns that energy and makes every stride feel light and effortless. I could not be more proud of this product and for HOVR to usher in a new chapter in the Under Armour design and innovation story."
"Under Armour is focused on delivering runners around the world – from world champion Natasha Hastings to runners completing their first 5K – innovative solutions that provide an unparalleled running experience," said Topher Gaylord, General Manager of UA Run. "We obsess over every detail in our running footwear to ensure supreme comfort, unrivaled performance, and the ultimate underfoot ride. With beautiful design, HOVR technology empowers athletes everywhere, at all levels of the sport, with performance advantages previously available only to the world's most elite athletes. Put simply, Under Armour and UA HOVR make you better."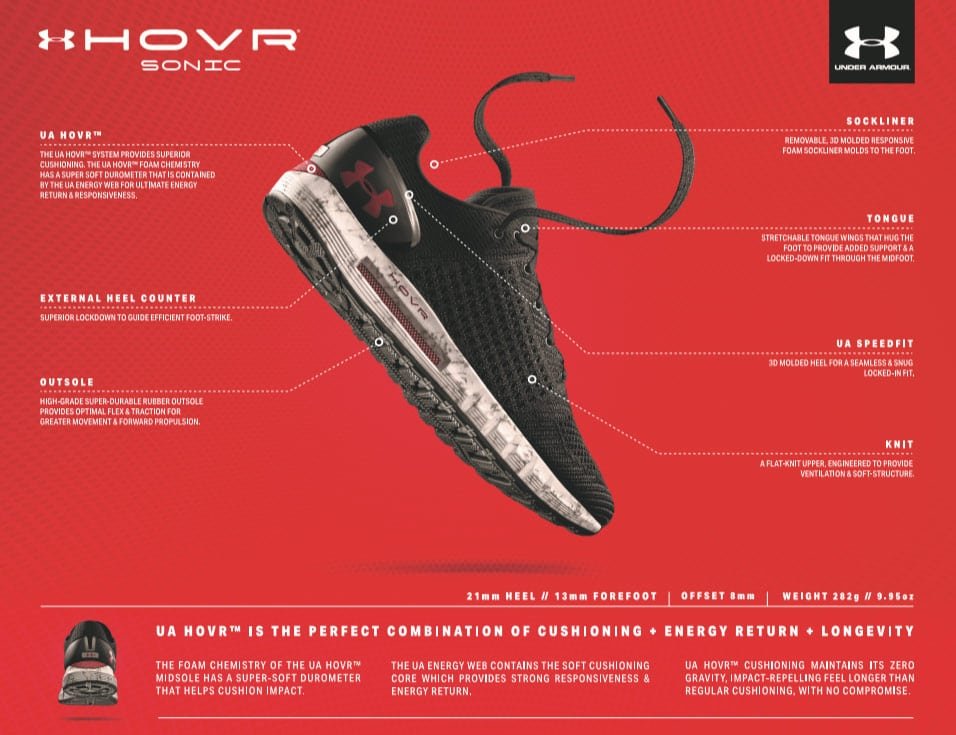 Weighing in at 9.6oz / 272g, with an 8mm offset, the UA HOVR Sonic has a light and responsive ride, for runners who put distance first.
The UA HOVR Phantom weighs 10.6oz / 300.5g and has a plush and responsive ride, for runners who want all-around cushioning. With the UA HOVR Phantom, UA leveraged its apparel DNA to create a knitted collar for superior comfort and adaptation around the ankle with a 5/8" collar and knitted sock-like feel.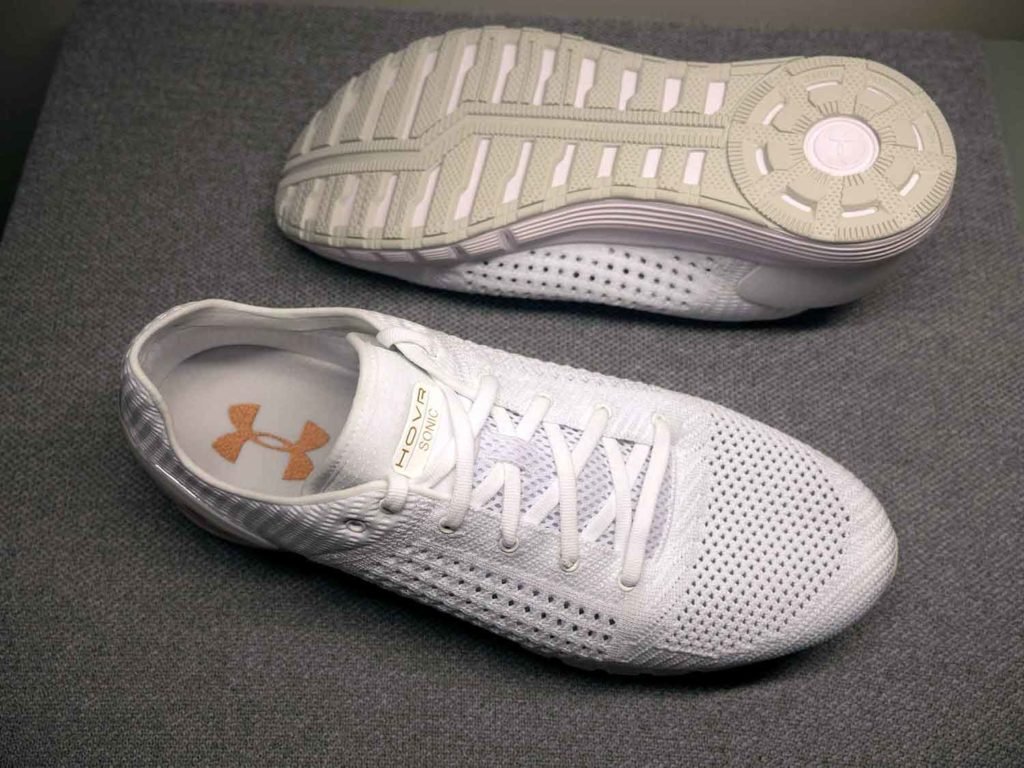 The UA HOVR platform will be introduced through two styles, the HOVR Phantom and HOVR Sonic, and both are available for purchase now in limited colors as the complete colors are yet to be distributed early this year. Prices begin at PHP 6,395.
Check out our complete gallery during the press launch of UA HOVR held last February 22, 2018 at Makati Shangri-La here.