Worried about discoloration on skin? Age spots? I did. But not so much anymore.
After reaching my sustainable weight from bodybuilding. I have decided to work on my skin color while on off-season re-bulking. As mentioned before, my skin looked discolored a year ago due to being super skinny from not eating a lot. But now that I have reached by body back, it's time to repair the skin damages.
A lot of you might know already that aside from the usual Glutathione Injections (also called as Gluta IV Push), there's also this thing called IV Glutathione Drip. The process is simple: A cocktail of different ingredients is mixed and injected directly on you, and that will hasten your skin glow. In the long run , it gives a smoother, radiant, and fairer skin. Unlike oral supplements, IV administration promises no loss or breakdown of the components in the stomach since we bypass that route by injecting it directly into your veins.
Glutathione… for MEN?
Weh ano naman ngayon? Lol. But seriously, Glutathione is a nutritional supplement for a healthier body, fairer and more exciting skin and it does not only apply to women, but to men as well (we also love skin care right?). You may not fully want to use it in full extent of overdosing to get the side effect, which is whitening, BUT, Gluta is a very good antioxidant for the body. So what's your excuse? Plus, there are glutathione containing products in natural foods so this is most likely a supplement.
About My Chosen Glutathione Cocktail Drip Service:
I have personally chosen the Pearl White Home Services because they cater IV drips in my area (Mandaluyong), and nearby cities and provinces like Makati, Manila, Pasig, Antipolo, Quezon City, Marikina, and more.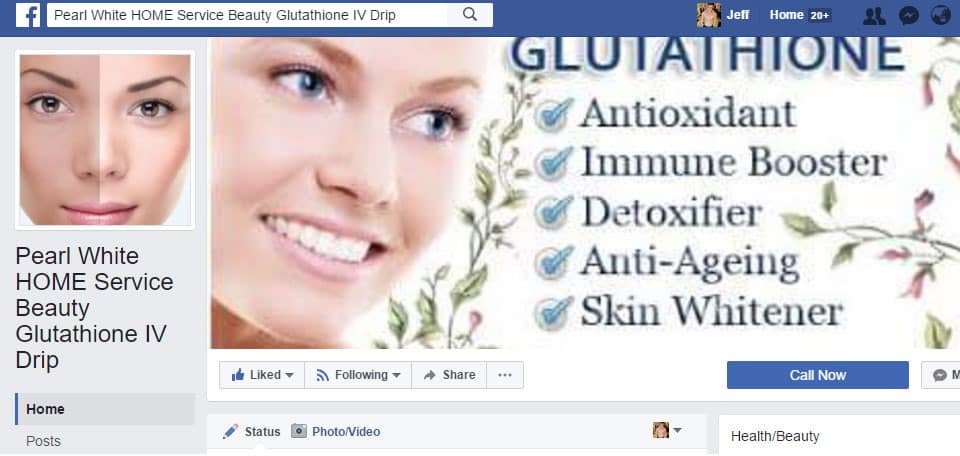 Take a look at the Gluta mix that's being administered by them:
Glutathione 5000mg
Vitamins C, E, B Complex
Growth Factor 200mg
Collagen 1000mg
CQ10 600mg
Vegetables Placenta 1000mg
Ovine Placenta Extract 1000mg
Alpha Lipoic Acid 350mg
Grape Seed Extract 200mg
Multivitamins 2000mg
What It's Like to Get a Glutatione IV Drip for Men
Soon as you're ready to take this road, a nurse will be schedule to come at your place (how convenient eh'). The she/he will start dissolving the ingredients in a sterile dextrose solution, then later inserts the IV drip, it felt like a bee sting-like pinch only so don't chicken out now lol!
Then, as the drip starts, you can go ahead and relax, watch TV, play games on your phone, or even do your home work. The drip will take around 30-45 minutes, in which the final procedure takes place by pushing the very last amount of mixture on your veins just like how IV push is done.
How I Looked—and Felt—After the Treatment
FIRST DRIP: May 5, 2017 — My honest take on this first attempt? The nurse promised that at least I will get an energy boost minutes after the treatment, so I've decided to go to the gym and VOILA! I was able to lift a little higher I hope it's not my preworkouts that made it work. Skin quality wise, I am not expecting anything, and I think you should not, too! Haha! It's not like a magic potion that will made you look whiter after just a few minutes of doing it. So I'm leaving it here.
DAY 1 AFTER FIRST DRIP: May 6, 2017 — I don't know if it's just me, but I feel a little bit refreshed, like a perfect time for "I Woke Up Like This" selfie would be this. Haha! With this, I vowed to go for it and continue the procedure.
SECOND DRIP: May 12, 2017 — I have to apologize haha! I'm still quite not into the idea of dramatic whitening. But my face looks a little fresher. My pores is starting to become a little tinier. Softer? Yup but color, I'm still the same. I haven't gotten out with friends and I'm living with a partner so nobody can attest to any change I could possible have (or not have, yet!)
P.S. My bad Mr. nurse I forgot your tip! HAHAHAHA! Next time bawi.
DAY 10 AFTER FIRST DRIP – May 15, 2017: I am still on my way to the third drip this coming Friday so no reviews yet. The only noticeable thing so far after my 2nd try… I've spent a LOT already! Haha! But yeah, I guess go for this if you have the extra because in my wallet boundaries it's kind of expensive. But seeing little by little improvements on my skin quality (not to mention I'm starting to also feel my skin being more elastic) make me want to go even further with this treatment. Oh and I used to have a small hollow scar on my right forehead and now it almost looks like it's blending to my skin back again. Yey! More to come!
[TO BE UPDATED, STAY TUNED!]
Curious to try it yourself too? Don't worry, a licensed nurse IV Therapist will do the drip for you. Go!
Pearl White HOME Service Beauty Glutathione
For Inquiries and Reservation text or call:
SMART: 09212441130
GLOBE: 0917 652 9722
LANDLINE: 02-9782471