The top-notch company known for its patented bone conduction technology, Aftershokz, has recently made one of their top-of-the-line model: Aftershokz OpenMove.
OpenMove Open-Ear Lifestyle Headphones
Aftershokz' top-selling headphone just got a makeover. OpenMove was created with versatility in mind and designed for everyday use, bringing you the best-in-class bone conduction technology, our signature open-ear design, comfortable and safe listening.
Unlike traditional headphones that use speakers to transmit sound, AfterShokz uses patented bone conduction technology. Transducers send mini vibrations through the cheekbones and deliver sound directly to the inner ear, bypassing the eardrum.
Open-Ear Comfort
Inspired by athletes, designed for everyone. Our open-ear design powered by bone conduction technology allows for total awareness of surroundings and bud-free, comfortable listening.
Water Resistant
Go hard in every element. Inspired by athletes, these headphones repel sweat, dust, and moisture to help you push any limit.
Easy Controls
Features a discreet design, easily locatable buttons, and quick controls such as play, skip, pause, and back-a-track.
6 Hours of Music and Calls
With 6 hours of battery life and 3 customizable EQ settings, you can enjoy music, calls, audiobooks, and podcasts wherever, whenever.
Designed for Everyone
Listen to audio comfortably and safely on your commute, while outside, or at home. OpenMove brings you the best-in-class bone conduction technology.
Bluetooth 5.0
Reliable connectivity up to 33 ft (10m)
PremiumPitch™ 2.0 Stereo Sound
A premium audio experience every time
3 EQ Settings
Human Voice, Standard, and Earplug Mode for customizable listening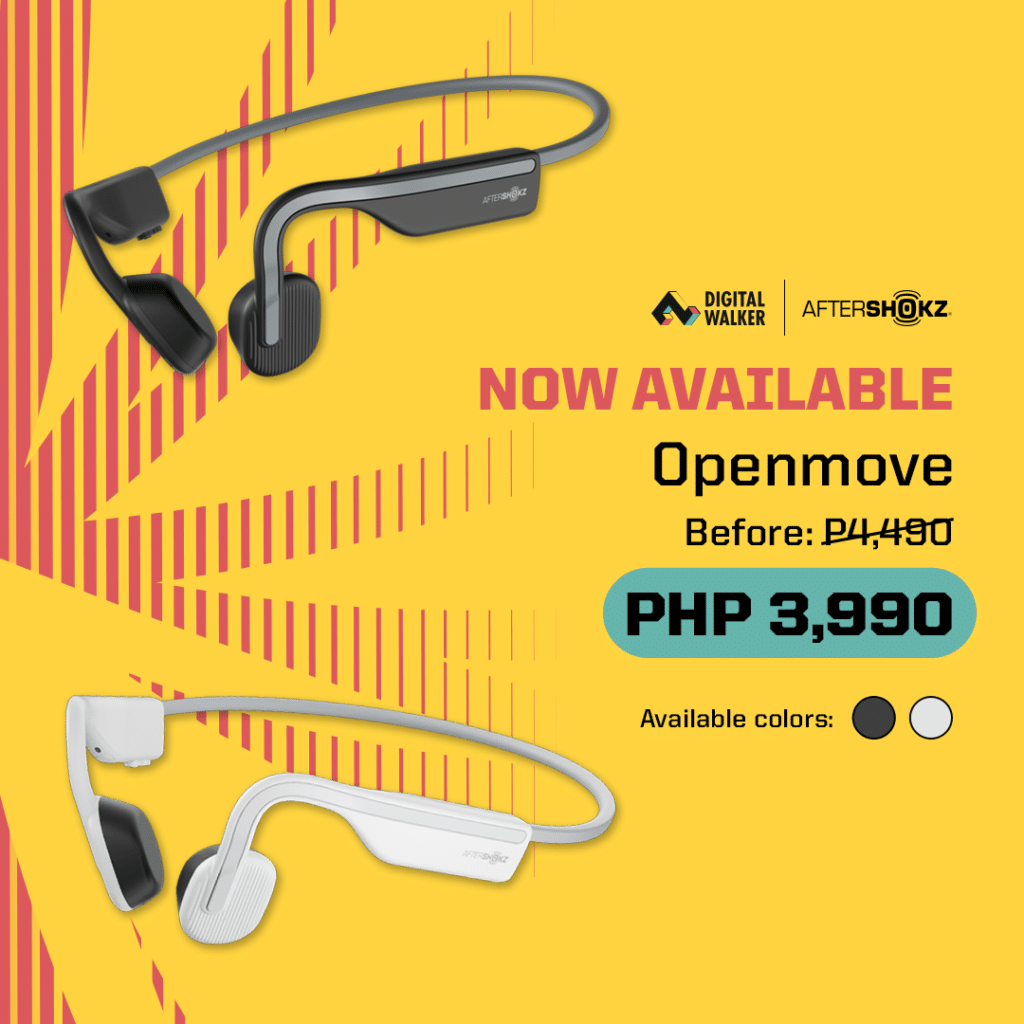 Aftershokz OpenMove is available at Digital Walker and Beyond the Box Branches nationwide.
SRP: P4,490
PROMO PRICE: P3,990
Available Colors: Grey and White
Shop at the comfort of your home
HomeOffice.ph: https://homeoffice.ph/product/aftershokz-openmove-headphone/
Lazada: https://www.lazada.com.ph/products/aftershokz-openmove-headphone-slate-gray-i1545850501-s6558300798.html?spm=a2o4l.seller.list.1.73f9490a3pxp28&mp=1
####
About HomeOffice
The world is changing, and so is your professional and work habits. At times, it may be more difficult, more complex and even more challenging. But whatever industry you may be, the things you do is roughly the same. The items you need, the items you will use, we've made sure to have sourced and made available the best tools you will ever need. So take a gander, take a look; a cable, a charger, true wireless earphones, speakers, laptops, mobile phone, whatever gadget you may think of, we'll have it. HomeOffice.ph provides a variety of top and amazing brands hand-picked and ready to be delivered, straight to your home. (http://homeoffice.ph/)
About Digital Walker
Digital Walker is one of the country's largest retailers of premium gadgets and accessories. Carrying a wide selection of consumer technology products that range from smartphones, tablets, cameras, cases, smartwatches, headphones, earphones.
With over thirty stores nationwide and a strong presence in the E-commerce and the Marketplace platforms, Digital Walker brings top notch brands and the tech lifestyle closer to its customers.
For more information, follow Digital Walker on Facebook @digitalwalkerstore and on Instagram @digitalwalkerph