The stage was set, the anticipation palpable, as fitness enthusiasts and competitors gathered for BodyCon 8.0 "Phoenix Rising" on October 22, 2023. Hosted at the prestigious Victoria Sports Tower in Quezon City, this event promised an unforgettable night of inspiration, transformation, and, of course, fierce competition.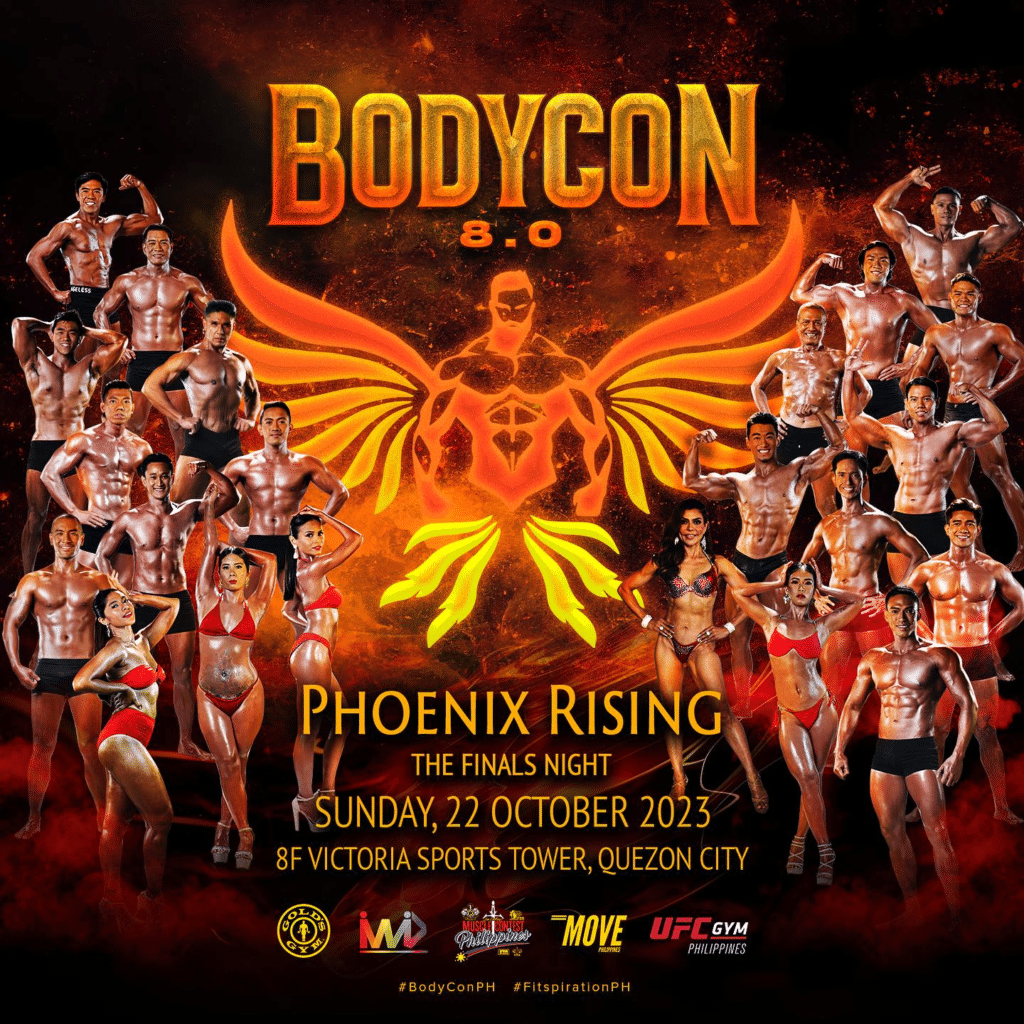 Embracing Diversity and Determination
"Prepare to be captivated by a fitness competition unlike any other," the invite declared, and it did not disappoint. Gold's Gym Philippines BodyCon 8.0 was more than just a contest of physical prowess; it was a celebration of diverse backgrounds and the stories of individuals who had risen like phoenixes, embodying the spirit of resilience and determination. Each competitor had a unique journey that served as an inspiration to all present, showcasing the power of the human spirit to conquer challenges and transform not only bodies but lives.
The Glitz, The Glam, and The Winners
As the event unfolded, the glitz and glam of BodyCon 8.0 were apparent, with contestants displaying stunning physiques and engaging in intense tests of strength. The competition was fierce, but in the end, a select few emerged as the victors. Zal Marte was crowned the BodyCon 8.0 Fitspiration, a testament to his dedication and commitment to fitness. Hinson Or claimed the title of BodyCon 8.0 Staff Winner, while Bob Cayabyab secured the Staff Runner-Up position.
In the male category, Ritchie Gutierrez was recognized as the Male Runner-Up. Shirley Garcia received the Female Runner-Up title, and in a highly competitive field, Mags Villafuerte and Julia Bonoan were crowned Mr. BodyCon 8.0 and Ms. BodyCon 8.0, respectively.
The Legacy of BodyCon
BodyCon 8.0 "Phoenix Rising" was not just a competition; it was a platform for participants to share their fitness journeys, inspire others, and become brand ambassadors for the fitness community. This Gold's Gym Philippines event reaffirmed that fitness is not only about physical appearance but also about strength of character and the ability to rise above challenges. BodyCon 8.0 left a legacy of inspiration and a reminder that, like the phoenix, we can all rise from the ashes and soar to new heights in our fitness and life journeys.
Congratulations to all the winners and participants who made this event a resounding success!