You're tired of wires. I get it. We're so entangled and yearning to be free! You don't want to let those wires distract you from doing the perfect lift at the gym. But can you get a decent sounding pair of wireless in-ear headphones? You'll find out in our latest in-ear wireless earphones review of Plantronics Backbeat FIT 305. I've recently reviewed various in-ear wireless headsets of other brands and this is the first time I'm reviewing Plantronics!
Enjoy big sound in a small package with the ultra-light and portable BackBeat FIT 305. A sweatproof coating protects the earbuds during workouts, while unique patent-pending, secure-fit eartips make them comfortable for all-day wearing.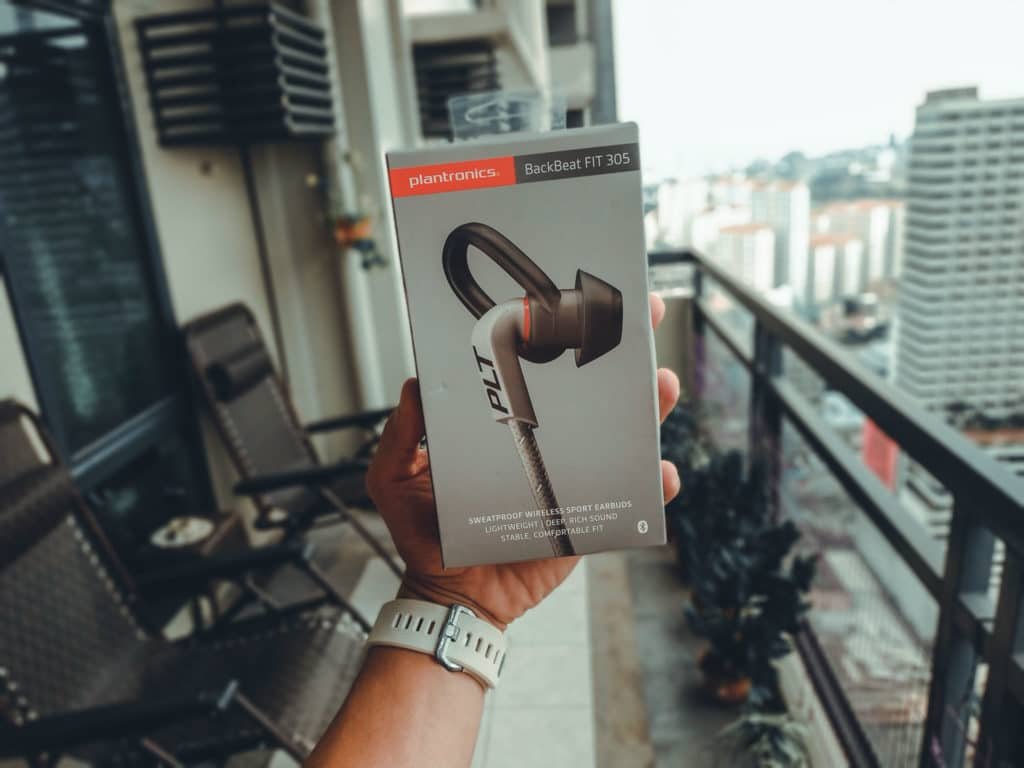 What's In The Box
Earbuds with Microphone
Micro USB Charge Cable
Quick Drying Storage Pouch
Cord Stability Clip
S / M / L Eartips
User Manual
Like the rest of earphones I've had, there's not much in the box, you get the BackBeat FIT 305 earphones wrapped around a cardboard inner with a cardboard sleeve. The sleeve contains your paperwork which includes Safety Declaration, warranty information and a Quick Start guide, you also get a soft drawstring bag containing a ziplock bag that has two differently sized rubber eartips. You also get a short microUSB cable so you can easily recharge it.
The earphones have the medium size eartips already fitted, but I had to change it to the small size (I have small ears!), which is not hard to replace.
Also, I have a very low tolerance for heavy headphones, and despite particularly intense (or long) workout sessions, there were virtually no occasions when the headphones felt 'heavy' or bulky!
Now let's have an quick review of this headset's features:
Features
Stability: The thing I like about BackBeat is this patent-pending, secure fit ear tips and two in one cable clip that provides stability during sport and fitness use.
Sweat and moisture protection: Sweat proof coating protects the earbuds against moisture from sweat, rain, and spills! I even wore this one time while on outside rain and it didn't flop for once (but like any other gadgets, don't abuse them into getting wet all the time!)
Portable and discreet: A miniaturized design allows for a portable and discreet form factor that sits flush in your ear.
Six hours of power: Rechargeable battery lets you listen with up to six hours of power on a single charge which takes less then 2 hours, or around 15-minute quick charge for a full hour of listening.
Functional style: Reflective sportweave cable provide visibility at night and minimizes cable friction during active use.
Storage pouch: A quick-dry mesh storage pouch allows you to store and protect your earbuds from moisture.
Up to 33 ft/10 m wireless range: Stream up to 33 feet from Bluetooth compatible smart phones and tablets. Obstructions like walls makes it more difficult to connect but only happens when on a maximized distance.
Connect multiple devices: Multipoint Bluetooth lets you automatically connect up to two devices simultaneously and pair up to eight. I haven't tried eight but I have my laptop and phone simultaneously connected and I did not encounter any problems at all.
Wideband enabled mic: You can eveny answer calls or access Siri, Google Now or Cortana using inline controls.
HD voice: Usually answer calls with wide band enable microphone, compatible with smart phones. The microphone is very sensitive that you might be able to hear some windy-ish sounds when microphone is being used (on calls), but not a big deal as this delivers crisp voice on your phone convos.
Quick and easy set-up: Easily download and install Plantronics hub for iOS or Android to update your earbuds and enable features such as Find My Headset.
Stay charged with DeepSleep mode: Deep sleep hibernation mode maintains battery charge for up to six months when your earbuds are out of range or if the power is left on.
Battery and connection voice alerts: Always know how much listening time you have left with battery life voice alerts. "Power on, battery high / medium / low, phone 1 / 2 connected".
Where To Buy Plantronics BackBeat FIT 305
You may refer to the following list below on where you can get your own brand new Plantronics BackBeat FIT earphones.