After a few weeks of blog hiatus, I'm finally back to feature again Filipinos who will make you get up and lift that weights not just for the summer, but also in the long run!
Up next is a 24-year old senior law student at the UST Faculty of Civil Law, Ian P. Pangan, who has suffered from low self-esteem and a health condition that became a wake-up call to start getting fit and healthy.
What's your path into fitness? How did you become interested in it?
At a young age of 23, I have had difficulty in breathing and was prescribed to take anti-hypertensive medicines.
I had a very low self-esteem; I could hardly socialize because I don't feel good of how I look.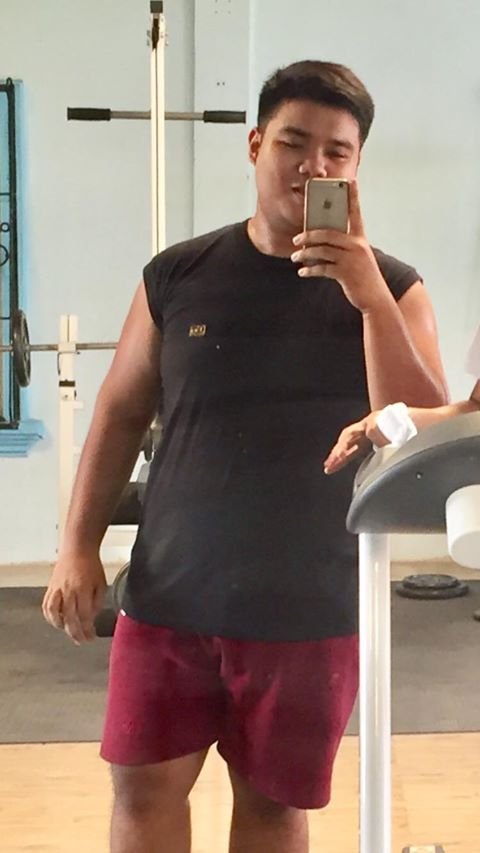 What is your biggest motivation? How do you manage to stay consistent?
How do you stay fit and healthy?
Jeff, I've been fat the entire 23 years of my life; I was bullied. I felt ugly. This feeling made me feel that I've missed so much in my life.
Can you take us to your training routine? What is it like?
Jeff, I'd prefer hitting the gym 2-3 times a week with rest days in between. I do manual runs during gym rest days as my cardio. Since cardio is extremely tiring, I prefer to split it on a separate day and not do it altogether with my weight trainings.
What's your take on nutrition? Do you count calories? Any sample diet you'd like to share?
I believe that the success of any weight loss program is largely dependent on what we eat. While counting calorie intake can be mentally tiring sometimes, I still monitor mine on the premise that I shall only as much as I can burn. It becomes less tiring when meals are planned weekly.
Also Read: Pinoy Fitspiration 11: Chef Nikki Misa
My diet consists mainly of fish and chicken breast and complex carbohydrate sources like oats and brown rice. These complex carbs gives me a longer feeling of satiation. Low calorie fruits like banana and apple also became my bestfriends.
#RelatableFitness Question: Do you allow yourself to have cheat days? If you do, what are your favorite foods you allow yourself to indulge in?
I would prefer a cheat meal to a cheat day. I think indulging myself of eating anything that I want in a one whole day is just too much. Cheat meal for me may mean an ice cream or any othey dessert on top of one of my regular meals.
What's your recommendation on how to get the ball rolling with getting fit?
Recommendation on how to get the ball rolling? I honestly don't know but certainly, you just have to get started! You certainly have to start somewhere. If it means learning how to cook healthy meals, then, by all means, learn how to cook.
Before we end this interview, what's your biggest advise to those who wants to start a healthier, fitter lifestyle?
First, I advise that they change slowly but surely. I personally consider starvation diets like intermittent fasting as fads. While they appear to be very effective and supported by clinical studies, they don't appear to be sustainable.
Second, develop a personal fitness plan. Listen to your body. Weight loss is a relatively complex phenomena; what worked for others may not necessarily work for you.
Third, no excuses! If it's worth having, it's most probably worth doing. I remember so many people who could stay up very late at night browsing their social media but could hardly wake up in the morning to jog or do some exercise. Don't be like them!
Any shout outs / parting words / fitness quotes you live on by?
I think we can only give our loved ones what we have. We have to be very healthy for the people that love us! While an attractive physique in itself may be superficial, if it will make you a more confident, loving, and a more generous person, then aim for it!
Follow Ian's journey to fitness via his Facebook account at https://www.facebook.com/ian.pangan.3956 or thru his Instagram at ianpangilinanpangan.
Til the next featured #PinoyFitspiration! Cheers!