Today, I'll talk about unboxing the Aftershokz OpenMove Wireless Bone Conduction Headphones and my review about it. 
First off, let me start by answering the question:
What is bone conduction technology?
A bone conduction technology used by special kind of headphones is a type that allows you to listen to your podcast, music, or whatever audio you have while still enabling you to hear sounds from your background. So by that means, yes, you can use bone conduction headphones if you wanna listen to some tunes at work and still be able to hear your manager when he calls you. But a more popular use for this type of headphones is for jogging or riding your bike outside where you can encounter potential dangers as you pass through busy streets. 
Lightweight and a Must-Have for the Multi-Tasker
The best thing about the Aftershokz OpenMove Wireless Bone Conduction Headphones is its light weight and ease of wear. It is made of two earphones which are placed on your temporal bones just in front of your ears. The earphones are connected through a band that is bent over your ears and around the back of your head. It is comfy and easy to use even with helmets and glasses on your head. It is created in such a way that the eardrums are not blocked so you can hear cars and other things you should be aware of while outside or in your office. This means that you can hear people shout at you to watch out for swerving cars. You can also keep a conversation going on between you and your best bud at work while you chill to spa music. In short, Aftershokz OpenMove is a good choice of earphones for those who love to multi-task. However, if you want to drown out the background noise, you can use the foam earplugs that come with the headphones.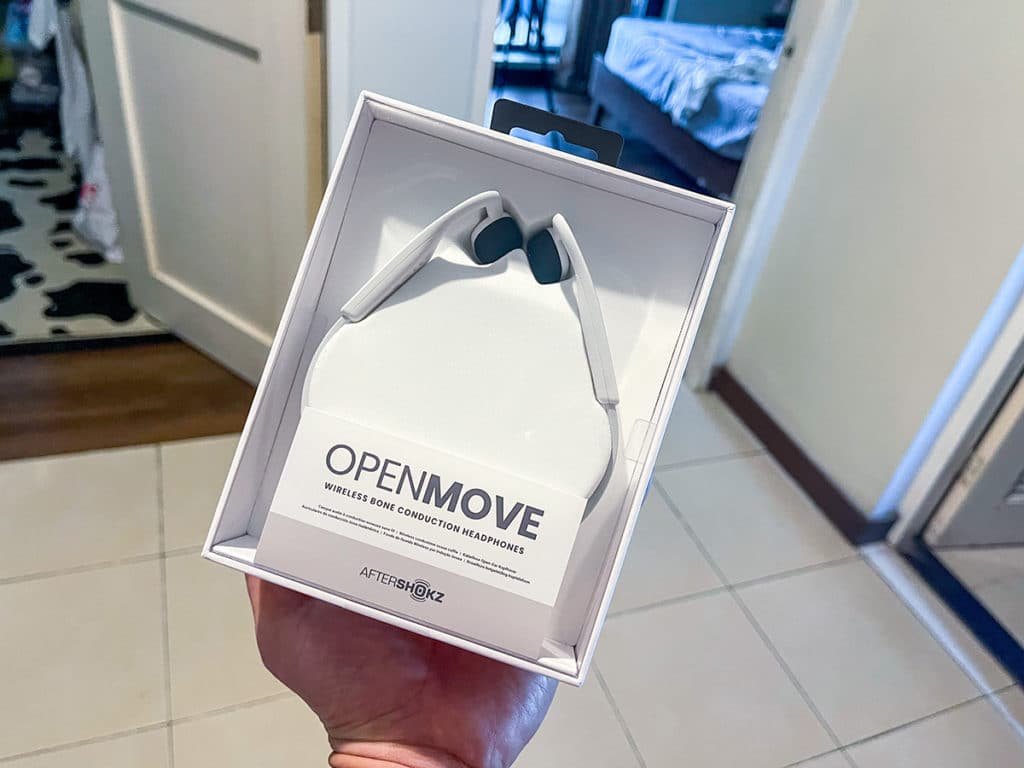 The AfterShokz OpenMove headphones feature magnets that allow the earphones to come together smoothly when you take it off. Only down side is more petite users may not be too happy with a headphone semi-choking their necks.
Sound Quality
The headphones feature an earplug mode that allows you to decrease the volume and minimize the bass –which can be likened to blocking off sounds for your ear canals. You can also opt to use the vocal booster mode to increase the higher frequencies.
The only downside of having a headset that frees your ears for listening to other sounds is that the bass is a little more lacking than the bass you used to enjoy with an in-ear headphones. You can still enjoy your music, and there won't be anything amiss… it's just that the bass quality is lower. 
Connecting to your phone
You can easily pair your phone via Bluetooth through a long button press. The headphones have three buttons which you can press to change modes, skip or pause songs, and to check battery status. For handling calls, you need to tinker with one particular button placed on the grey stripe of the left ear.
Battery Life
AfterShokz OpenMove has a battery life of around six hours. It can easily be charged through USB-C for two hours. 
Retail Price
The original retail price for AfterShokz OpenMove Wireless Bone Conduction Headphones is P4,490. However, you can have it today for only P3,990. It is available in grey or white colors and may be purchased at any Digital Walker or Beyond the Box branches nationwide. You can also purchase it online through HomeOffice.ph and Lazada.
Verdict
Purchase these light and comfy headphones if you'd like to keep your ears open to external sounds while still listening to your work-out beats.