#GymLife — it's an overwhelming experience to say the least. Seeing new people with most of them looking and acting really pro at what they're doing and it makes you feel very conscious all the time; looking at the gym equipment and realizing you're not familiar with most of them.
But don't worry much. Because whether you want to jump start your bodybuilding career, or just wanted to burn all the extra calories you've taken for the past few weeks, here's a quick 6 tips for you to get things going: to make a move on finally getting fit.
1. Grab These Gym Bag Essentials
Let me share with you what's on my gym bag first during workout days. These are my few key things that might also make your workout experience better. Here's my #gymlife starter pack. Of course you'll have your bag with you, but here's what you put in it: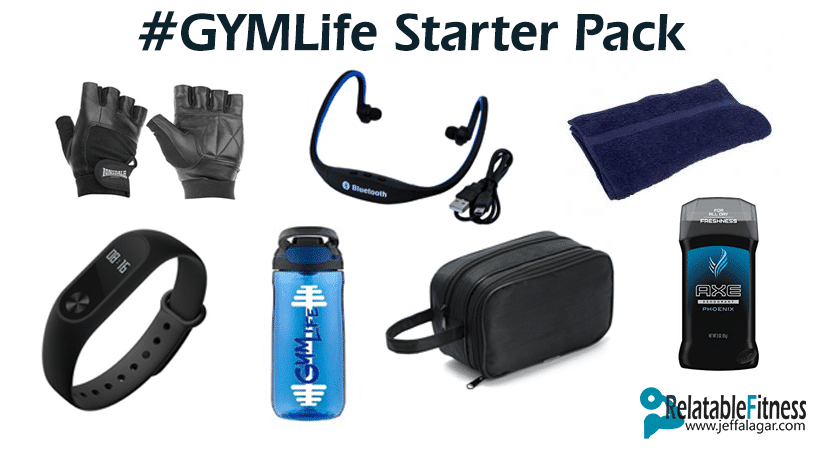 Deodorant – One golden rule: do not EVER include yourself on the batch of stinky members at the gym. Lol.
Towel – Find a good towel that absorbs moist and sweat. After all, it's a basic gym etiquette to clean the equipment from your body waters after using it.
Fitness Band – You need a way to track your workouts: In my own choice it's about tracking my daily steps, and my current fitness band works like charm. (Read more: Xiaomi Mi Band 2 Review)
Gym Tumbler – my gym has water fountains throughout the gym, so take the walk to and from to get a drink between sets as part of your rest. However, you might want to bring a water bottle with you for convenience.
Headset / Bluetooth Earphones – Some prefer it without music, but most people want to focus on their workouts by having a workout music with them. For me, it gives me the energy and lift I need.
Toiletries Kit – Of course, a toiletries kit is a must, too. But you don't have to take your whole bathroom with you– just travel-sized bottles of soap and shampoo… and again, a deo!
Optional: Gloves – While many people think using gloves to protect your hands or help with grip, they sometimes make the bar harder to hold and can make your grip worse! Bring sometimes if you have to, but remember that picking up things without gloves is a great way to develop grip strength. Callous is a good sign of a good workout — it's gonna heal by itself anyway.
2. Starter Workout? NO. Try Everything Out
Are you assuming that you'll get your very first workout routine here? Nope.
This is your first time, so the main keyword here is… TRY. Whatever you're doing at this very point, your body will be in shock. Ropes, treadmills, free weights, whatever; you'll be sore the day after. So test your body and see what exercises are right for you by familiarizing yourself with each and every gym equipment available.
3. Practice Good Gym Etiquette
Just like at your school or office: respect to the rules and practicing proper etiquette is very essential:
Ask before using. Be friendly and aware of your gym surroundings. It's always polite to ask if you feel like someone's using an equipment you're planning to use.
Always clean up after using EVERY equipment. Because nobody wants to touch your sweat, and how would you feel if you're about to use a machine that's full of sweat? Not good, right?
Put back the weights you're using. It's a common mistake most bodybuilders do, don't put yourself in the list: when you're done with the dumbells, return it in place. It's simple and adds a little workout "lift".
Socialize but not too much. We're all there to workout, not to chat. Nearby people might be attempting to focus, so don't add to the distraction.
4. Measure And Take Notes
Get your baseline measurements. All fitness clubs have their weighing scale and for some, you can even measure your fat percentage. While I do this at home using my personal body fat monitor, you can always get these numbers at the gym so you can track your progress every now and then.
5. Done With Tryouts? Recover!
Congratulations! You have survived your first workout at the gym. Now it's time to refuel properly: Eat within the next 30 minutes.
One good post-workout to take is chocolate milk. Also, to repair the micro-tears in your muscles after a weightlifting session, you will need a protein supplement. Either get it thru natural foods like chicken and meat, or get yourself a protein powder. Never ever go for fatty foods because they might slow down the digestion process. The healthy ones reaches out to your muscles quickly.
Final Tips
Don't overdo your workouts. You'll have plenty of time to practice each routine. Mistakes and bad forms are inevitable, but you'll eventually fix it yourself. Baby steps are fine. Small steps contribute to huge results in the long run.
Lastly, don't be afraid to ask for help. If you're unsure about what you're doing, ask a trainer or a staff member for a quick help, maybe a spot. Remember that even the most competitive athletes has a coach. So even if it only means correcting your form on a simple bench press, don't be afraid to ask for assistance.